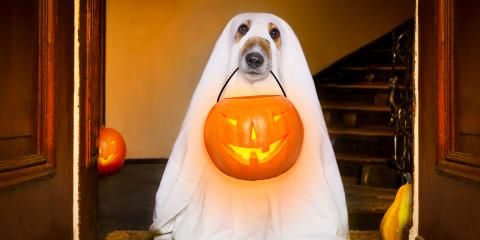 The excitement of Halloween can overwhelm your four-legged friends without the right care. Not only is the weather cold, but there are also strangers knocking on the door, candy everywhere, and interesting items like candles and glow sticks. With the right cat and dog accessories, as well as preparation on your end, you can keep your animals safe and make the most of this spooktacular holiday.
How to Keep Your Pets Safe During Halloween
1. Bring Them Indoors
Don't leave dogs or cats outdoors during Halloween night, since there will be more foot traffic around the area. Since temperatures will likely be freezing, bring your pets indoors to keep them warm, too. You can use baby gates to section off the front of your home so they don't run out the door when you open it for trick-or-treaters.
2. Keep Them Away From Candy
Place candy in cabinets or other areas of your home that your pets cannot reach to help them avoid upset stomachs. Chocolate in large amounts is toxic to dogs, with poisoning signs including diarrhea, excessive thirst, panting, seizures, and shaking. It can take up to 12 hours for symptoms to manifest. If you think your dog has chocolate poisoning, take the animal to the vet immediately.
3. Switch to Faux Decorations
Trade traditional candles for flameless versions with light bulbs instead of wicks. Dogs and cats can easily knock burning candles over and injure themselves or start fires. Also avoid other Halloween lights such as glow sticks, which can cause problems when ingested.
Use faux corn and pumpkins for any Halloween displays, since real versions could cause gastrointestinal problems and intestinal blockages when consumed in large chunks. Corn can also contain mold, causing further intestinal grief.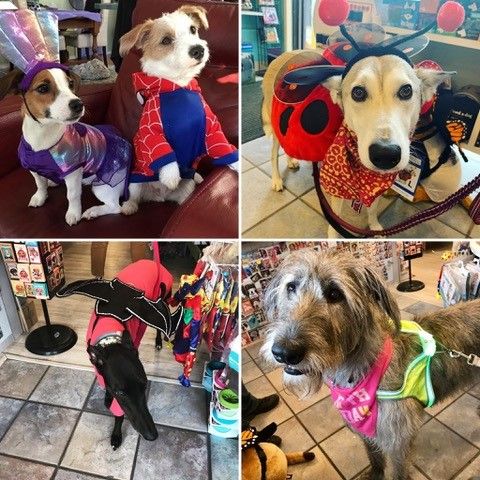 4. Use Light-up and Reflective Accessories When Trick-or-Treating
If you plan to take your pet trick-or-treating, remember it will be dark out! LED lighted collars, harnesses or tags are a must for Alaska's dark winters. Combine LED lights with bright reflectors for safe walking at night. Available at AK Bark, these dog accessories ensure your pet stays visible to people and drivers. If you're dressing them up, make sure the selected costume fits them loosely and does not restrict their breathing or vision.
Please use this comment when posting the article: Halloween might be our favorite holiday, but there are dangers. Please read for a SAFE and happy Halloween! -AK Bark